Sidebar
RidgePro, The Simplest Way To Stay Safe While On Your Roof- And It's Quick Too!
Fall Protection Distributors is proud to introduce the RidgePro, a revolutionary new roof anchoring system that will make getting up on your roof quicker and simpler than ever before.
The RidgePro is the perfect solution for anyone who needs safe, temporary anchoring while working on a roof. With its easy-to-use design and quick installation time, the RidgePro is ideal for contractors, roofers, solar installers, chimney sweeps, telecom installers, gutter installers, and rescue workers. So next time you need to get up on your roof make sure you reach for the RidgePro! For more information check out this link: https://standingseamroofanchor.com/
What Is A Roof Anchor?
Roof anchors are devices that provide a secure attachment point on roofs. There are numerous roof anchor options available, but RidgePro is the only one that offers both permanent and temporary anchoring solutions.
The RidgePro is the perfect choice for anyone who needs safe, quick access to their roof. Its easy-to-use design makes it simple to install in minutes without any special tools or equipment.
Why Choose The RidgePro?
There are plenty of reasons why the RidgePro is a smarter choice over other roof anchor systems. Most notably, it's one of the only systems that come with both temporary and permanent anchoring options. So whether you need it for residential or commercial purposes, short-term projects, or long-term ones, we've got you covered.
Another key selling point of the RidgePro is how easy it is to set up. In just a few minutes, and without any special knowledge or tools, you can have the anchor firmly in place. Plus, its one-of-a-kind self-locking system guarantees that once it's installed, it isn't going anywhere.
The RidgePro is a fall protection system that was created with 6/12 to 12/12 pitched roofs in mind. It quickly and easily attaches to most roof peaks, providing a safe anchor point for either temporary or long-term use. 100% tie-off is possible while still maintaining safety, thanks to the Ridge Pro. From the ladder to the peak (and back), this product has you covered. Learn more here: YouTube
When Are You Required To Wear Fall Protection?
In the United States, any worker who is at a height of six feet or more above the ground is required by law to have fall protection. This Occupational Safety and Health Administration (OSHA) mandate applies to all workers, regardless of specific circumstances.
Major types of fall protection include fall arrest, fall restraint, and work positioning. Fall arrest systems halt a falling worker, while fall restraint systems stop workers from tumbling in the first place. Work positioning system let workers safely move into position while at great heights.
The RidgePro is a fall arrest system that can be used as either a temporary or permanent anchoring point for workers who are working at heights. Its easy maneuverability makes it great for big projects where safety is the number one priority.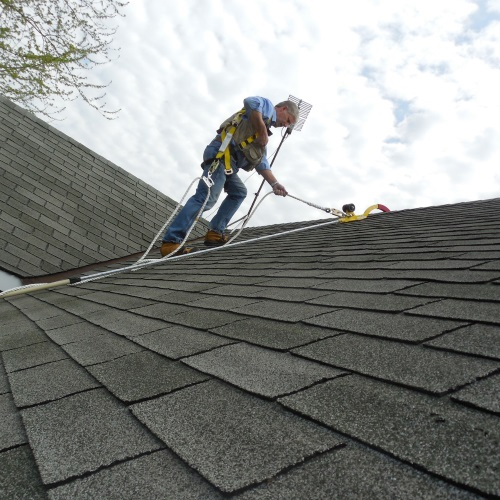 More About Fall Protection Distributors
Fall Protection Distributors, a USA team that specializes in fall protection equipment, has delivered an innovative first-man-up fall protection system specifically for those working on sloped roofs between 6 degrees & 12 degrees incline. Most commonly found in residential construction & repair but valuable anywhere there are potential fall hazards from elevated spaces.
For more than two decades, Fall Protection Distributors has been a front-runner in the fall protection industry. Big names all over the USA use their products. Most importantly, though, they're dedicated to offering their customers dependable goods and services.
Visit their website to learn more about their products and services and follow them on social media: Facebook, Twitter, and Instagram.