Sidebar
Standing Seam Roof Anchor Deluxe Kit - SSRA1 Plus Torque Wrench, Socket Bit, and 1 Dozen Nylon Tip Set Screws
Expedited UPS shipping available by calling 863-204-3124.
The Standing Seam Roof Anchor SSRA1 is a revolutionary product allowing homeowners,building owners, and contractors to work safely on standing seam roofs without penetrating the panels. Engineered to revolutionize fall protection anchorage attachment on Standing Seam Roofs!
The SSRA1 was recently subjected to Ultimate Failure testing at an independent ISO 17025/ANSI Z359.18 certified materials testing facility. The results far exceeded our expectations and our competitor's strength. The maximum testing protocol for OSHA and ANSI is 5,000 lbs, however the SSRA1 was subjected to 14,500 lbs of load. The test was concluded when the Grade 8 top bolts sheared leaving the aluminum anchor body completely unharmed or bent. This incredible strength is due to the patented structural design of the anchor body. This puts the SSRA1 in a class of it's own in the industry!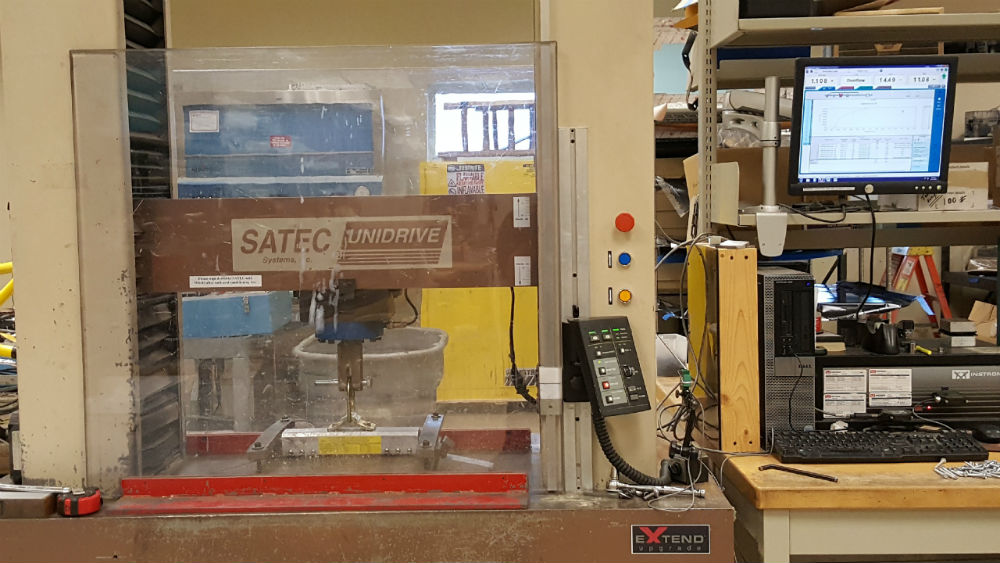 The patented, non-penetrating design of this life saving device is unlike anything currently available. It consists of a solid aluminum body with 12 stainless steel set screws. The standard assembly also includes a 5,000 lbs certified d-ring for single man attachment. It arrives ready to use as a single seam, single user anchor. Set screw attachment is superior to compression type anchors that use bolts to squeeze the seam between the metal plates. The set screws do not allow the device to slide during impacts like weaker compression designs are prone to do.
22 Gauge Panels - Use either the included Cupped Tip or optional Nylon Tip set screws.
24 Gauge Panels - Use Nylon Tip set screws only.
User must use an inline shock absorber or shock pack when using the SSRA1.
10 Reasons To Buy The Standing Seam Roof Anchor
Standing Seam Roof Anchor Unboxing Video
Standing Seam Roof Anchor Installation Video
The SSRA1 has several distinct advantages for homeowners, building owners, and contractors:
Only 4.5 lbs! World's lightest OSHA 5,000 lbs certified anchor. Installs in minutes with basic hand tools. C

an be used for temporary or permanent attachment.


Patented, universal fit design works on over 500 Standing Seam Panel Profiles with no reassembly required! Fits t-seams, bulb seams, SnapLok, single lok, double lok, MR-24, etc. No other anchor fits as many profiles. List of compatible profiles can be found on the

Panel Compatibility Tab

.


ANSI ASTM B-117 Salt Spray tested, non-corrosive aluminum and stainless steel components. Can be powdercoated to color match roofs for permanent installations.


Made in USA with a Lifetime Life Saving Warranty.


Clean, low profile attachment to the seam minimizes tripping hazards and is less obtrusive on permanent attachments.


OSHA tested to 5,000 lbs in ALL directions of pull. Workers can access both sides of the roof without having to reposition the anchor. Test report can be reviewed on the

Test Report Page

.



The only certified component system for mounting just about anything to a standing seam roof. The interchangeable mount allows for attachment of devices from various fall protection manufacturers. Can be used for attachment of roof jacks, walk boards, SRLs, horizontal lifelines, ladder anchoring, etc.
Proper installation requires a torque wrench that reads down to in/lbs and a 3/16" hex bit socket. This kit includes the Torque Wrench with 3/16" socket bit.
What's Included:

Aluminum Body- patented universal fit design
5,000 lbs certified D-Ring
12 stainless steel,

Cupped Tip

set screws w/

3/16" hex/allen bit
Lifetime Life Saving Warranty
Owner's Manual

Torque Wrench with 3/16" Socket Bit


1 Dz Nylon tipped Set Screws
* For short term anchor attachment, we recommend using the optional Nylon Tipped Set Screws for less chance of seam scratching.
Standing Seam Roof Anchor Deluxe Kit

Great product at a great value